Katsushika-Sibamata and the Approach to Taishakuten Temple.
Katsushika-Sibamataand the Approach
to Taishakutten temple
Katsushika-Shibamata in an Historical Records
An officer of the museum of Local Culture and Astronomy in Katsushika said that the name "Katsushika-Shibamata" appeared in a historical record for the first time in A.D. 731 (Nara era in Japan).
Family register records of Katsushika area kept in Shosoin (an old warehouse of Todaiji temple in Nara pref.) recorded that there were 3 villages named Kowa, Nakamura and Shima-mata (to be Shibamata later) with 1191 residents.

Interestingly, it is recorded that there were a man named Tora Anahobe and other 7 Tora and a woman named Sakura as well which are the name of main characters of the famous movie named "Otoko-wa Tsurai-yo".
Over 1300 years ago, Shibamata has been a town of Tora and Sakura.
Katsushika-Shibamata in Kamakura and Edo era (12th century ~ 19th century)
Modern Katsushika-Shibamata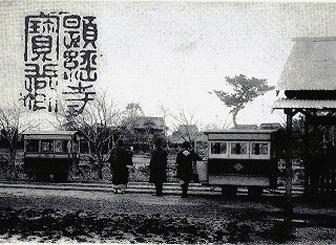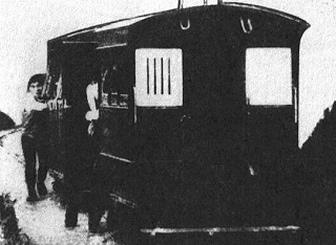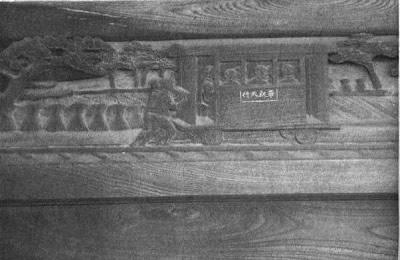 There are curving of human power railway at collide of Taishauten temple.
From end of Meiji era to Taisyo (early 20th century), Katsushika-Shibamata was popular as a resort area. On the day of fair of Shibamata Taishakuten temple, it was told that human power railway carried about 10 thousand people between Kanamachi and Shibamata.
Considering the development of transportation at that time, Shibamata might be like current Atami where is a popular hot spring area near Tokyo.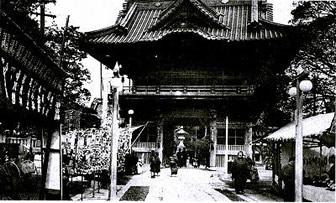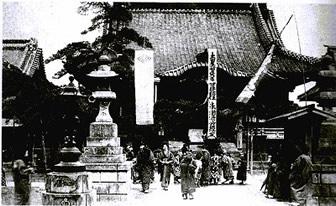 C
urrent shopping street alongside the approach to Shibamata-Taishakuten temple named "Shibamata Shinmeikai" was established around this time. (originally named Daikyo-ji Kyoei-kai)
I
n the picture there seemed some streetlamps indicating existence of the shopping street.
T
hough some shops were replaced, the atmosphere and approach remain almost the same.
I
n the map at that time, there already existed KAWACHIYA, KAWAJIN, TAKAGIYA, TACHIBANAYA, YEBISUYA, FUJIMIYA rice shop, etc.
There
have been many shops and restaurants using the foods produced in Shibamata such as rice crackers shops and rice dumpling shops using rice, Tsukudani (preserved foods boiled in soy sauce) and pickles shop using vegetables and river food restaurants using Unagi (
eel
), carp and other river fish from Edogawa River.
In this way, the shopping street has been developed by the approach of Taishakuten temple from end of Meiji era and served for the visitors of Taishakuten temple.
A
fter that, the well-known Japanese movie series named "Otoko-wa Tsurai-yo" begun in 1969 and became popular. As the location of the movie, Katsushika-Shibamata and the approach of Taishakuten temple were drastically
changed from a town of faith to a tourist spot.
My grandfather who is born in Meiji-era said that Katsushika-Shibamata is a town of faith and this shopping street should serve and contribute for visitors of Taishakuten temple by providing, foods, gifts and Buddhist wares. However, young people are regrettably elated for movies and TV programs.
I shall respect his opinion, but I also thank for the contributions of the movie so called "Tora-san" for Katsushika-Shibamata to attract many people to this area.
We, shoppers in Shibamata, should keep the atmosphere of the approach to Taishakuten temple with gratitude for Shibamata Taishakuten temple and "Tora-san".
Commentary
Tais
h
aku Human Power Railway (Meiji ea)
Human
Power railways was established in 1900 by local volunteers serving for visitors of Taishakuten temple. The operators pushed the hooded car.
The formal name of the railway was Taishaku Human Power Railway Co., Ltd.
A
t its peak, they operated 60 cars and carried approximately 10 thousand passengers between Shibamata and Kanamachi.
I
n 1913, it was abandoned due to extension
of Keisei Line.
The approach of Shibamata-Taishakuten temple in Taisyo era (1912-1926).
T
here are some shops and streetlamps in front of Nitenmon gate of Shibamata-Taishakuten temple. This picture tells us there existed the shopping street at that time.
T
he approach of Shibamata-Taishakuten temple
before
the movie "Tora-san" (1957).
A
t that time, cobblestone of the approach was paved by concrete to avoid people wearing Geta (old Japanese wooden shoes) stumbled.
In 1989, the approach was paved with granite as before and the power cable was buried. As the result, it became the current landscape.